Fiji begins massive clean up after Cyclone Cody
Fiji today began nationwide work to return 4000 people to their homes and to clean up the flood damage caused by Tropical Cyclone Cody.
Fiji today began nationwide work to return 4000 people to their homes and to clean up the flood damage caused by Tropical Cyclone Cody.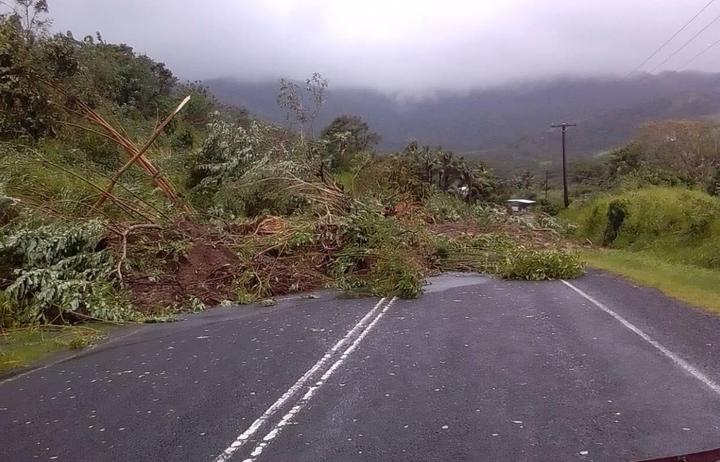 A landslide along the King's Road near Saivou District School in Ra Province forced the closure of this part of the highway. Photo: Facebook/Fiji govt
More than 148 evacuation centres still house just over 100 families as a military led team of civil servants begin repair works in the country's main towns and cities.
Minister for Rural and Maritime Development and Disaster Management Inia Seruiratu said all roads are open, water supply has been restored and major infrastructure including power is returning to normal after several days of flooding.
"Those in the evacuation centres have been provided with their rations to sustain them and of course help them in doing minor work so they can return to normal life. We are concentrating again on liaising with state stakeholders on returning the evacuees safely to their communities, but subject to the status and of course, health related issues in their communities," Seruiratu said.
Areas where #landslides have occurred are currently being surveyed by our hardworking team on the ground.

Their input will determine next steps we are to take as we positively bounce back from TC Cody. #postdisaster #cycloneseason pic.twitter.com/FlRxFGOu4Q

— Fiji NDMO (@FijiNDMO) January 14, 2022
"But we are hopeful and thankful as well that the numbers keep decreasing in terms of active evacuation centres and number of people within it as well."
While the country's major supply routes have been restored, some repair and restoration work is dependent on better weather as the country continues to receive heavy rainfall as an active trough of low pressure comes in from the northern and eastern parts of Fiji.
Authorities are working with the added complexity of strict Covid-19 protocols as it battles through its third wave of the pandemic.
Fiji has 4903 active cases of Covid-19 with seven deaths and 204 new cases reported in the 24 hours ending January 13. There are 205 patients who are currently being hospitalised for Covid-19.
The disaster management minister said health and hygiene continue to be the main priority of the government teams as it works with other government agencies to assess damage to other critical sectors such as agriculture.
The government has not been able to provide an estimate of the cost of damage so far but Seruiratu said its cyclone relief food distribution programme has already reached 650 households since it began on Thursday.
"I'd like us to refer back to the advice given in October that it is highly likely that three to six cyclones will pass through the Pacific region and Fiji as well. The general message is that everyone should just prepare and listen very carefully to the advice and take the appropriate action once received."