New Zealand v Australia: first women's ODI – live!
Over-by-over report: Australia can break the record for consecutive ODI wins with victory in the series opener in Auckland. Join Adam Collins for updates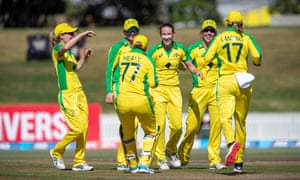 Key events
Show
1.19am

BST

01:19

WICKET! Satterthwaite c Schutt b Carey 32 (New Zealand 69-2)

12.06am

BST

00:06

WICKET! Jensen b Schutt 0 (New Zealand 0-1)

11.34pm

BST

23:34

Meg Lanning has won the toss

11.29pm

BST

23:29

Preamble
Live feed
Show
1.26am BST01:26
22nd over: New Zealand 73-2 (Down 34, Kerr 2) Just 13 runs added from the last five overs, New Zealand losing Satterthwaite in that window. That's one more than they should have too, with the captain Lanning misfielding the final ball of Carey's over at cover.
1.24am BST01:24
21st over: New Zealand 71-2 (Down 33, Kerr 1) Singles to bookend the over, Down then Kerr finding the square leg sweeper off Gardner. The spinner is already through four overs, giving up only 11 runs.
1.23am BST01:23
20th over: New Zealand 69-2 (Down 32, Kerr 0) Kerr beaten twice in a row to complete the successful Carey over. A nervous start from the new No4 but she's ready for this next level of responsibility.
1.19am BST01:19
WICKET! Satterthwaite c Schutt b Carey 32 (New Zealand 69-2)
That's the big wicket for Australia, the White Ferns' captain falling when trying to pop Carey down the ground over the top but not getting enough of it to clear Schutt at mid-on. An easy catch.
1.17am BST01:17
19th over: New Zealand 67-1 (Down 32, Satterthwaite 30) Gardner's turn to race through a brisk over, giving up just one single to cover.
"Brian Lara cricket swing," tweets Jonathan Raimondi of Schutt's wordly delivery to Jensen. That's exactly what it was: video-game hoop. Although, Super International Cricket was more my vibe.
1.13am BST01:13
18th over: New Zealand 66-1 (Down 32, Satterthwaite 29) That's a niceshot, Down steering Carey past point for her third boundary.
1.12am BST01:12
17th over: New Zealand 60-1 (Down 27, Satterthwaite 28) Gardner isn't as consistent as Jonassen but she gives it such a big rip. Three further singles, continuing to build the foundation. Hannah Darlington, the New South Wales youngster on her first Australian tour, has joined the television commentary team for a guest stint. She maintains the company line about them not having discussed the ODI record on the shelf for them today. Hmm, yeah, sure.
1.06am BST01:06
16th over: New Zealand 57-1 (Down 25, Satterthwaite 27) This is a good little recovery from New Zealand after their very difficult start. But these two managed to ride that out, getting through the new ball, and now they're doing a servicable job. Ooh, that's nearly undone from the final ball before drinks though, Carey finding Down's edge but Healy is up to the stumps so it deflects away.
"Hi Adam." Hello, Tanya Wintringham! "So good that you're here - is it stupid o'clock where you are?" 1am, to be precise! But always lovely to be on the tools over here, whatever the time. "I missed the pre-match malarkey and the first over - have seen the ridiculous swing on the wicket delivery though - is Frankie McKay not playing because of injury?" Yup, she's ruled out on account of the injury she picked up in that second T20. "Am very jealous of the Final Word trip to Pakistan and Brazil - am looking forward to the YouTube content on that one! There must be a DOB or two you can track down on your travels."
You should be part of it! Anyone can! Why are we going to Brazil and Pakistan? Well, help put the pieces together via our weekend show.
1.02am BST01:02
15th over: New Zealand 54-1 (Down 24, Satterthwaite 26) Spin from both ends now, Gardner brought on to have a go at Satterthwaite - she's a good match-up to left-handers, turning it away from them. It's Down on strike initially though, taking the partnership beyond 50 with a tuck to midwicket. Down has picked up the rate after 18 scoreless balls to begin, collecting 20 from her next 21 balls, the TV tells me. She's not that convincing to finish, Gardner beating her with some extra dip, but her uppish clip doesn't go to hand.
12.57am BST00:57
14th over: New Zealand 49-1 (Down 20, Satterthwaite 25) Down doesn't show enough urgency with Wareham on the prowl at midwicket, sent back and nearly run out! The Victorian has already developed a reputation as one of the best ground fielders in the game. Had she been run out - and there was only an inch in it - it would have been doubly frustrating given she struck Jonassen over long-on for four the ball before it, her best shot of of the innings.
12.53am BST00:53
13th over: New Zealand 42-1 (Down 14, Satterthwaite 24) Satterthwaite over cover, just doing enough to get it over the fielder on the circle, the captain's third boundary. Six from the Perry over.
12.48am BST00:48
12th over: New Zealand 36-1 (Down 13, Satterthwaite 20) Jonassen doing what she does best: racing through her over in about 75 seconds, giving up just one single along the way. She's relentless.
12.47am BST00:47
11th over: New Zealand 35-1 (Down 12, Satterthwaite 20) With the field back, the New Zealand pair are happy enough taking three singles. It's going to be fascinating watching the next stretch of Perry's career. As Geoff Lemon and I discussed last week, she's only 30 but has been doing this for 14 years. That has to take a toll, especially when you consider how much she also put into football.
Updated at 12.48am BST
12.41am BST00:41
10th over: New Zealand 32-1 (Down 10, Satterthwaite 19) Spin to finish the power play the the visitors, via Jess Jonassen. She used to bowl a lot of overs with the new ball, so the field up won't worry her too much. It's a good set for New Zealand though, even after an excellent diving stop from Schutt saved a boundary at mid-on. Nine off it after Satterthwaite dances and lofts over midwicket for four.
12.38am BST00:38
9th over: New Zealand 23-1 (Down 9, Satterthwaite 11) Ellyse Perry, welcome to the bowling crease. This is her first ODI since October 2019. She wasn't called upon often in the T20s but is in her element here, finding Down's outside edge with her second ball, through the cordon and down to the rope. A four-ball follows outside the off-stump but the opener can't capitalise to make it back-to-back boundaries, missing her cut. All told, it's not an especially potent over from the superstar, but something to build from.
Similar news
13 days ago

Daily Excelsior

India 2nd in ICC T20 rankings, drop to 3rd in ODI chart after annual update

NZ v Australia women's ODI series: Meg Lanning eager for a piece of the action at 'favourite' Bay Oval
This week's most popular news
Chloe Grace Moretz sports a black coat as she takes her dog for a walk

7 days ago

The Bisouv Network

Electromagnetic Shielding Market Analysis: The transformative Impact Due To COVID-19

Automated Truck Loading System (ATLS) Market – increasing demand with Industry Professionals: Actiw, Cargo Floor ...