South Auckland scrap metal fire put out, air quality 'a lot better'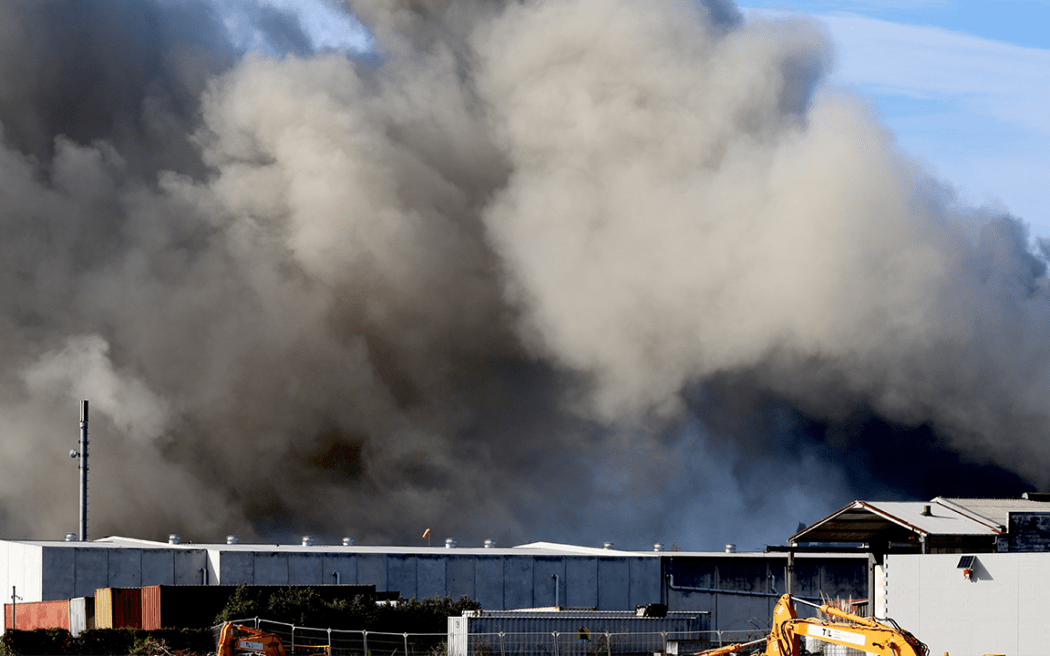 FENZ says the fire at Sims Metal was extinguished just after 2am but crews remained on site to monitor hot spots. Photo: RNZ Marika Khabazi
A scrap metal fire in South Auckland that burned for more than a day has been extinguished.
The blaze started just after midnight yesterday at Sims Metal in Favona sending a huge plume of smoke across the city.
By last night it was noticeably less.
FENZ District Manager for Counties Manukau, Brad Mosby told Morning Report crews had stopped putting water onto the smouldering pile around 2.10am.
"Since then, our crews have not had to turn water on again, which is a great sign."
Mosby said the site would continue to be monitored for any hot spots, with thermal imagery cameras.
Two aerial trucks and a pump, along with 12 firefighters, remained on site.
A toxic smoke alert was issued as the fire burned yesterday, with thousands of Aucklanders warned to stay inside and keep windows closed.
Mosby said the air quality in the area had now improved.
"Given the fire has been put out, and has been done so since 2 o'clock this morning, I would say the quality of the air is ... a lot better than it was."
'A high-risk industry'
The fire was the ninth since 2017 at the Sims Metal scrap yard and the fifth described as serious by FENZ.
Mosby said while there had been "numerous fires" at the site, "only three of the fires mentioned have been scrap metal fires".
One, in 2018, was a significant event that burnt for about two days.
"The other one was back in 2021, which was smaller event and was brought under control in two-and-a-half hours."
The remainder of the fires at the site had been of a "minor nature" he said, including some which had been put out before FENZ responded.
Mosby said piles, like the one burning at Sims Metal on Wednesday, contained composites of plastics.
"Those things, when burning, release carcinogens, and that's the toxic smoke that was released into the environment yesterday."
Scrap metal was a "high-risk industry" for fires and there was "obviously" work for FENZ, the industry and other stakeholders to do to help prevent them from occurring, he said.
A FENZ spokesperson told RNZ the metal recycling industry sets its own rules for fire safety and environmental protection.
Scrap yards important for economy but a big responsibility - council
Auckland Council said the number of fires at Sims Metal in recent years was unacceptable.
Council general manager of licensing and regulatory compliance Mervyn Chetty told Morning Report scrap yards played an important role in Auckland's economy, but owners had to take the responsibility around stockpiling and managing material seriously.
"We will be working closely with agencies such as Fire and Emergency and WorkSafe to understand the cause of the fire, to review the company's systems and processes, and to take action if needed," he said.
"Clearly, the number of incidents reported by FENZ is of significant concern and unacceptable."
Chetty said the council could impose sanctions or tighten consent conditions if necessary.
He said Sims Metal had an environmental management plan which set out procedures it needed to follow to avoid and mitigate environmental risks.
The council monitored and visited the scrap yard regularly and it was considered to be a "high-risk site".
The company had not been sanctioned before, but following the previous incidents council had worked with it to improve on-site practices, Chetty said.
Sims Metal's general manager, David Burrows, yesterday apologised to those who lived and worked near the site and promised there would be a full investigation into the cause of the huge blaze.
"We're very cognisant of the impact that this has had on the broader community and our neighbours. We're very sorry for that disruption and that inconvenience."
While he did not want to speculate on the cause of the fire, some materials in the scrap metal received at the site were problematic, he said.
"One of those in particular is lithium ion batteries and they certainly are a headache for the industry and for other waste handlers."
The burning stack also contained "post consumer metals that is shredded and recycled". Examples included whitegoods, roofing iron, bicycles, hot water systems, metal fencing and vehicle parts.
The company did not accept flammables, however, some whitegoods contained plastic, foam and rubber.
'Lessons haven't been learnt'
An Auckland councillor says there needs to be some accountability over the fire and compensation should be looked at for businesses in the area which were affected.
Manukau councillor Alf Filipaina told Morning Report lessons had not been learnt since the last big fire at the site five years ago.
"We've had two major [fires] - 2018 and now the ones that our FENZ team are fighting," he said.
"The lessons haven't been learnt."
He said Auckland Council needed to increase its visits to the site.
"It's just around the corner from Manukau Harbour ... there has to be some accountability."
Filipaina said while the scrap metal yard was in the right industrial area, such fires presented both environmental and pollution concerns for the local community.
"There are houses still very, very close to that space."
He said compensation should be looked at for schools and businesses that had to close.
"We need to look at that because that'll be part of the accountability."
Read more