'You're f***ing kidding me': F1 star's 'chaotic' prediction comes true in ...
Formula One's new format for the sprint race weekends makes its debut at the Azerbaijan Grand Prix on Saturday night [AEST], starting off with the sprint shootout.
Already there has been plenty of drama with a red flag sparking chaos.
Watch the Formula 1 Azerbaijan Grand Prix 2023 Live and ad-break free in racing on Kayo Sports this Sunday April 30 9:00PM AEDT. New to Kayo? Start your free trial now >
The same could not be said for Logan Sargeant though after the Williams driver crashed into the wall at Turn 15 as a red flag was thrown with just 25 seconds left in SQ1.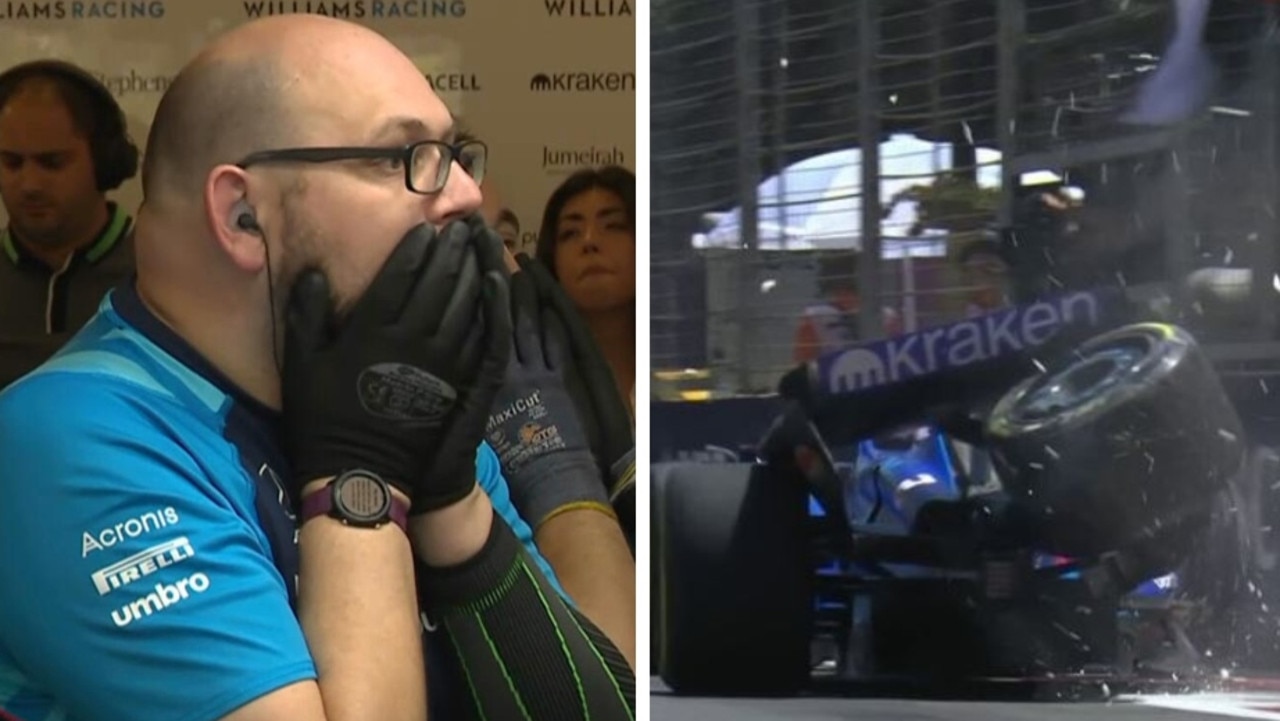 There was drama in Baku.Source: FOX SPORTS
It meant all the drivers in the drop zone were unable to improve their times, seeing Alfa Romeo's Zhou Guanyu and Valtteri Bottas, AlphaTauri's Yuki Tsunoda, Alpine's Pierre Gasly and AlphaTauri's Nyck de Vries all eliminated.
At that point it was Ferrari's Charles Leclerc leading the way with a time of 1.42.820 with Max Verstappen four tenths behind and Lewis Hamilton in third, 0.7s off the lead.
Piastri, meanwhile, had recovered to position himself in 13th.
The red flag was particularly tough for Tsunoda, who was just metres away from crossing the start-finish line before it was thrown, denying him a chance to move out of the drop zone.
Replays showed Tsunoda's frustrations as he unloaded in an expletive-ridden radio message.
There was early drama even before Sargeant crashed as a yellow flag came out, with Oscar Piastri going wide at Turn 3 but the Australian was quickly able to get going again.
Coverage of qualifying for the sprint race began at 6pm, with three sessions of 12, 10 and eight minutes as opposed to the 18, 15 and 12 for a full qualifying.
The sprint race itself, meanwhile, is expected to get underway at 11.30pm with coverage on Kayo Sports and Fox Sports Channel 506 starting at around 10.30pm.
Formula One approved a shake-up to the sprint format on Tuesday in time for this weekend's Azerbaijan Grand Prix.
QUALIFIYING TALKING PTS: Brutal reality of Ferrari stunner; rival's big blunder
Ricciardo opens up on F1 future | 10:15
HOW DOES IT WORK?
Well in Baku, which stages the first of this season's six sprints, the 100-kilometre dash becomes a standalone event on the Saturday of race weekends.
A shortened qualifying version will be held in the morning of the approximately 30 minute race to define the starting order for the sprint first introduced in 2021.
Qualifying for Sunday's Grand Prix will now he held on Friday, the traditional three-session qualifying preceded by a first practice session.
The shake-up was given the green light by the teams at the Australian Grand Prix at the start of the month, with the changes rubber stamped by the FIA's F1 commission on Tuesday.
Up to now, the three sprints held in 2021 and last year have shaped the grid for Sunday's main event.
Teams and Formula One believe the revised race weekend will now give Saturday's action added excitement to fans with the doing away of the often less than enthralling second practice session.
Saturday's qualifying will be known as 'the Sprint shoot-out' with the first qualifying session or Q1 running for 12 minutes, Q2 for 10 minutes and Q3 for eight minutes.
F1 hopes that with its new standalone status drivers will have an added incentive 'to go for it', knowing any incidents will not have a bearing on where they start in the Grand Prix.
The Sprint points system remains unchanged, with eight going to the winner down to one for eighth place, meaning a maximum points haul of 34 on offer to a driver winning the sprint, grand prix, and posting the fastest lap.
QUALIFYING WRAP: Max rocked by qualy 'masterpiece' as 'virtuoso' move shocks F1
BAKU, AZERBAIJAN: Charles Leclerc of Monaco driving the (16) Ferrari SF-23. (Photo by Alex Pantling/Getty Images)Source: Getty Images
Announcing the changes the FI Commission hoped the new format would deliver "more 'jeopardy' through a reduction in practice time and providing a greater incentive to drivers to race hard on Saturday".
Defending champion Max Verstappen is not still not a fan of the weekend, irrespective of the changes, predicting things may get seriously "chaotic".
"Everyone I think knows my opinion about it but I think just looking at the weekend, it will be a bit more chaotic, to get everything right," he told Sky Sports.
"Maybe some people who are outside the points and they try to get a point (will really go for it). I think once you're out front, it's like 8, 7, 6 (points), it's not making a massive difference and the risk involved of potentially having a shunt.
"I don't really see it being a lot different than what it was in the previous sprint weekends.
Earlier on Saturday, Ferrari's Charles Leclerc took his third consecutive pole while McLaren duo Lando Norris and Australian Oscar Piastri impressed to seal spots inside the Top 10.
"I think there will be a little bit more chaos around because of the extra qualifying. This track anyway is normally quite chaotic, so this will only make it a little bit more chaotic."
Max Verstappen is expecting chaos. (Photo by Bryn Lennon/Getty Images)Source: Getty Images
Alfa Romeo's Valtteri Bottas, meanwhile, tipped some drivers may be more incentivised to take risks in certain circumstances.
"If I would be on the last laps in ninth position, which is just outside of the points in the sprint, then definitely you go for it," he told Sky Sports.
"Obviously, if you break your car or something, then that could have consequences for Sunday. But then on another case, there's not a huge difference, but I think a welcome one. So at least you know that you can try and if you're just on the edge of the points.
"And if you're like 15th or something, you still go for it, it's the nature of us. You don't give up and in this sport you never know what happens so you go 'till the end."
Follow the action from the Azerbaijan GP in our live blog below! Can't see it? Click here!
Read more